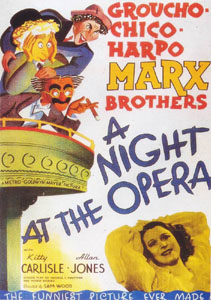 Oggi ho rivisto per la seconda volta questo bellissimo film dei fratelli Marx. Non lo nego, le lunghe parti operistiche e molte scene comiche sono oramai fuori tempo, in primis la scena a circa metà film del concerto improvvisato in seconda classe. Quella che però è senza tempo è la comicità di Grucho. Battute sferzanti e cattive a ripetizione, mai volgari o oscene ma sempre terribilmente intelligentemente divertenti. Peccato che questi film non circolino più sulle tv nostrane, purtroppo non è nemmeno facile trovarli.
Per chi avrà notato l'assonanza si, si tratta del film che ha ispirato il titolo del grande album dei Queen.
Qualche citazione:
Mrs. Claypool
: I've been sitting right here since seven o'clock.
Otis B. Driftwood
: Yes, with your back to me. When I invite a woman to dinner I expect her to look at my face. That's the price she has to pay.
Otis B. Driftwood: [to carriage driver] Hey you. I told you to slow that nag down. On account of you I almost heard the opera.
Henderson: You live here all alone?
Otis B. Driftwood: Yes. Just me and my memories. I'm practically a hermit.
Henderson: Oh. A hermit. I notice the table's set for four.
Otis B. Driftwood: That's nothing – my alarm clock is set for eight. That doesn't prove a thing.
Mrs. Claypool: Get off that bed. What would people say?
Otis B. Driftwood: They'd probably say you're a very lucky woman.